I found
this site
through
A Year at Oak Cottage
, which I found through
Tuesdays with Dorie
. I think it is a lovely way to start off the week and will be posting this on Mondays.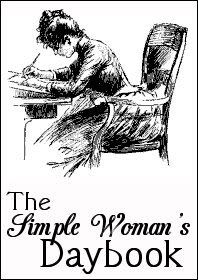 FOR TODAY, OCTOBER 20, 2008 ...

Outside My Window...

The weather is beautiful. The leaves are just starting to change and a frost warning was sent out for the day. No frost but a nip in the air. Just enough to break out the sweaters and make cinnamon rolls for breakfast.
I am thinking...
about my friend Beth today. She is moving soon and I am hoping she will make it to My Gym this morning for our make up class. That reminds me...I need to text her!
I am thankful for...
My sweet husband who got up this morning and bathed the kiddos so I could get a few things done downstairs. I am so thankful for the hard work he puts in every day at his job to provide for us.
From the kitchen...
Soon there will be the delicious scent of chicken, potatoes and carrots coming from the crock pot. In the meantime I can still smell the cinnamon rolls I made for breakfast.
I am wearing...
Jeans and a t-shirts and a gray hoodie. Normally I would be in flip flops but the weather has just gotten cold enough that I have had to start wearing shoes. I have on my black Target One Star Converse tennies. This is my standard uniform.
I am creating...
Scrapbook layouts in my head and storage solutions for all of our stuff.
I am going...

all day long today. I am editing pictures this morning, heading to My Gym for a make-up class, will walk this afternoon, take Munchkin to dance class this evening and maybe get home in time for Heroes.
I am reading...

If I get to read today I will be reading Readers Digest. It is sitting here next to the computer. I may have too much on my plate for that today though. I did just read the entire Twilight Series though.
I am hoping...
I can fit everything in I need to do today including laundry, and unpacking at least a couple of boxes.
I am hearing...

Super Why from the living room and the dog just being loud.
Around the house...

There are still boxes and boxes and boxes piled in my living room. I am trying to go through them to put away, give away, throw away. It is difficult though as I am quite sentimental about my "stuff". I know I shouldn't be but when you are not near family I find it nice to have the reminders of them around.
One of my favorite things...

Is hot chocolate when it just starts to get cold outside.
A Few Plans For The Rest Of The Week...
Pediatric ophthalmologist appointment for my Little Man, volunteering at school and unpacking more boxes. Watching the Big Kahuna one day and making sure Munchkin gets her homework done. Finding another book to read and of course Thursday night TV. Making the rest of Little Mans costume, finding one for Munchkin. There is a lot on our plate this week.
Here is picture thought I am sharing...
This is kind of an older picture. I can tell by the hair. This was before she was swimming every week. The chlorine was really bad for all of this beautiful hair and then we cut it off. She has always loved books and reading. I guess that is why she is 6 and already reading 4th grade books.
Check out the
Simple Woman
to read more posts like this one.